Round rewards
Information
What are the Round rewards?
Every Round in Nemexia ends with the successful construction of the SSG by 1 Alliance. For their effors the members of this Alliance deserve a Reward. There are some restrictions and requirements that need to be followed if these players want to receive their rewards:
The maximum allowed members that will receive rewards are 20. If the Alliance have mor than 20 players - all players should divide the total reward amount equally.
F.e. If the alliance have 25 players and the defined reward is 300 credits for each member. These 25 members will get:
20 x 300 = 6 000 / 25 = 240 credits each. So intead of 300 each Alliance member will get 240 credits because of their count.
If the account is banned to the end of the Round* - he will not receive any reward.
If the member is new to this alliance (less then 10 days in it) - he will not receive any reward.
If the member leave the alliance during the SSG construction - he will not receive any reward.
If the member has less than 15 000 Resource points or the account is restarted - he will note receive any reward.

* If some of the Alliance members broke the Game rules (made several accounts, were cheating and/or pushing etc) there is a chance for them not to receive their reward, depending of the seriousness of the violation. But the total members count remain. So if there are 25 members (the case above) and 2 of them are banned/punished for something - the rest of the members will still get 240 credits only.

In general - if you want to receive reward for being part in the winning Alliance you should:
Have at least 15 000 resource points.
Have to be in this alliance for at least 7 days before the SSG is started.
Need to be in this alliance when the SSG is finished.
Your account should not be banned while the SSG is constructing or after it is done.
Rewards for first players in the Ranking
The first 3 players in the Ranking by Total points can receive rewards too. Along with the credits reward, they will get a special made Nemexia certificate (deed) that is numbered with serial number for all Nemexia universes. So if some of them receive Certificate with serial number 160, thats mean that he is the 160th player in Nemexia (all version) that made it to the first 3 places.
The Deeds look like that: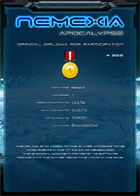 They are uploaded to XS share server and the link to them is sent to the rewarded player.