Admiral Overview
Information
Every player starts the game with an Admiral.
Your Admiral helps you to command your fleet and hire commander ships. The level of the Admiral define the available Commander Ships that you can use.
You increase that level in battles. For certain ammount of battle points, level of the Admiral increases.
Your Admiral do not engage in battle. He is always on your planet. He sents his Commander Ships to manage the battles instead of him.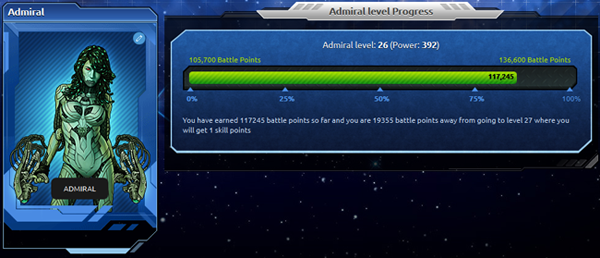 Admiral Power
The Power of your Admiral determinate the chance for your Commander Ships to be chosen during Sun Support flight. Players with equal levels of their Admiral are classified by their Admiral Power.
The Power itself is determinate of your Admiral development. The upgraded Admiral Stats and your distributed Admiral Skills.
Level Information
You start collecting Skill points after level 5 of your Admiral and can distribute them to a different Skill tree.

You can have maximum 36 Skill points on level 40.
| Level | Battle points | Skill points | Level | Battle points | Skill points |
| --- | --- | --- | --- | --- | --- |
| 1 | 10 | - | 21 | 26,400 | 1 |
| 2 | 20 | - | 22 | 35,300 | 1 |
| 3 | 35 | - | 23 | 47,000 | 1 |
| 4 | 60 | - | 24 | 62,000 | 1 |
| 5 | 90 | 1 | 25 | 81,000 | 1 |
| 6 | 140 | 1 | 26 | 106,000 | 1 |
| 7 | 210 | 1 | 27 | 136,000 | 1 |
| 8 | 310 | 1 | 28 | 175,000 | 1 |
| 9 | 460 | 1 | 29 | 223,000 | 1 |
| 10 | 675 | 1 | 30 | 282,000 | 1 |
| 11 | 975 | 1 | 31 | 355,000 | 1 |
| 12 | 1,400 | 1 | 32 | 442,000 | 1 |
| 13 | 2,000 | 1 | 33 | 550,000 | 1 |
| 14 | 2,800 | 1 | 34 | 674,000 | 1 |
| 15 | 4,000 | 1 | 35 | 822,000 | 1 |
| 16 | 5,500 | 1 | 36 | 1,000,000 | 1 |
| 17 | 7,700 | 1 | 37 | 1,200,000 | 1 |
| 18 | 10,500 | 1 | 38 | 1,430,000 | 1 |
| 19 | 14,400 | 1 | 39 | 1,700,000 | 1 |
| 20 | 20,000 | 1 | 40 | 2,000,000 | 1 |